The following article was published on the saiconnections blog page. You can read the original article here.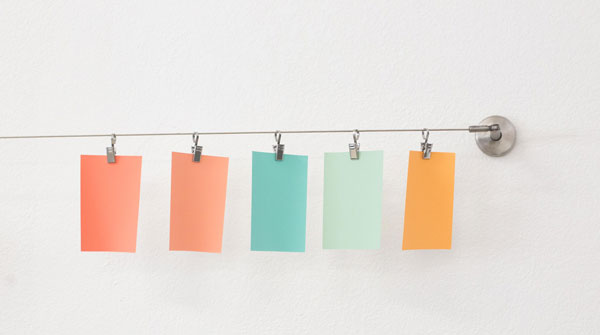 I smiled as I watched the video of Tanay making cutlets with his mother, Priti. What a long way this 20 year old young man has come!
Their roles shifted effortlessly from fetching and adding ingredients to mixing and tasting.
Priti playfully popped some cooked dough in his mouth. Tanay paused to taste it. He proceeded to add more salt and chaat masala. But his thoughtful expression indicated that he wasn't satisfied.
"What is it?" asked Priti.
Tanay strode over to the fridge and brought back a bowl of curd.
"Oh, that's not required for cutlets."
But Tanay looked adamant and stood his ground!
"Alright!" sighed Priti. "Just 2 spoons!"
Tanay's smile and body language said it all! In went 2 spoons of curd.
He continued smiling as they tasted the crispy cutlets, once done.
"They're yummy, Tanay!" said a visibly proud Priti.
"I don't know how he thought of adding dahi to the cutlets", she said to me. "They turned out delicious… like at restaurants."
Tanay's understanding, sense of self and ability to communicate stood out clearly for me. Despite being non vocal, he effortlessly shared and expressed thoughts and feelings.
Clearly Tanay has evolved. His thinking and confidence have deepened. For this, Priti deserves credit. She changed the way she communicated with him and the result is there for us all to see.
Just like Priti, you the parent have a big role to play in your child's development. A professional can guide you, but the true impact is visible only when you work closely with your child to develop a guided participation relationship (GPR).
Communication has little to do with speech production. It has everything to do with emotions and sharing.
Parents of children with autism have so many questions running through their minds:
"When will my child talk?"

"Why are his conversations so repetitive?"

"Why does he get stuck and repeat the same question."

"Why does he engage in scripted conversations despite having so many words?"

"His conversations are not meaningful."

"When will he understand sarcasm and irony?"
I am going to counter all these questions with just one question.
How do you talk to your child?
Do you instruct him about every little thing? Do you bombard him with questions and expect answers?
Do your questions have a 'right' and 'wrong' answer? Do you give him time to think about a response?
Do you ask him questions a 'certain' way so that he can respond?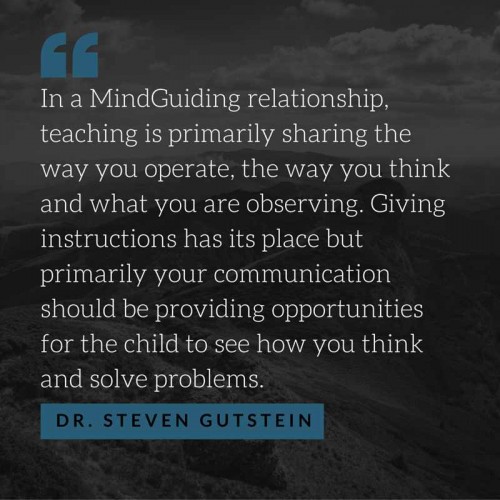 If your interaction with him is as above, then you are using a form of language known as Instructive or Imperative Communication.
Here is an effective solution: Declarative Communication.
Declarative communication can be verbal or non verbal. It is the opposite of imperative communication, which demands answers to questions.
With declarative communication a response is neither expected nor required. It's okay if your child doesn't respond to your declarative statement. For example: if you stated "These oranges are sweet.", we would not expect a reciprocal statement.
The more non verbal communication you use, the more the child will reference you.
The idea is to share what you see or how you think – with your child.
There is no pressure to respond.
Here is how you can switch from imperative communication to declarative.
1. Reduce Instructions
Listen to yourself talking to your child. Better still, record a 5-minute conversation.
How many times did you instruct him?
The ideal ratio of instructive to experience sharing is 30:70.
For today, I'd like you to think about reducing instructions. I'm not asking you to go cold turkey and stop immediately.
Try this out. Instead of telling your child, "put on your shoes," say "we're going out."
Wait and see what he does. (Wait for 45 seconds before you say something else.)
If you're talking about colors, instead of asking, "what's your favorite color?" say "my favorite color is blue." Pause and look at him (yes, for 45 seconds). Does he share his favorite color with you?
If he does, that's great. If not, you've been invitational and given him a chance to share his favorite color. Soon, he will take up the invitation and share his thoughts with you.
2. Stop the Barrage of Questions
Here's a typical conversation with a teenager:
Mother: "How was your day?"
Child: "Fine."
Mother: "What did you do?"
Child: "Regular stuff"
Mother: "How was school?"
Child: "Okay"
You get the trend.
I had this same problem with my daughter.
So I decided to test out the efficacy of declarative communication. I would share something about my day.
"Today, I had a real rough day at work."
"Why? What happened?"
And that's how the conversation would start. Most times, it would end with her talking about her school day!
This works brilliantly with neurotypical children. It works equally wonderfully with people on the autism spectrum.
Share your experiences, give them time to respond, be invitational.
Your child will be more willing to express himself through words, actions, gazes.
Related: Dynamic Communication Tips
3. Pause
Punctuate your conversations with pauses.
A good conversation is like a flowing river. It's about listening to your communication partner. It's about sharing with the other and waiting for him to share with you.
It's okay for your child to not respond immediately.
I have seen many students responding after a period of time.
Give them time. Pause and be invitational.
That gives time to the child to process what you said and think about a response.
It also takes the stress away from coming up with an answer on the spot.
4. Use Broadband Communication
Most times I hear monotones when I see parents interact with their child.
It's time to change that by being more animated. Use facial expressions, gestures and prosody.
To ease yourself into conversations, start by reading a book to your child and exaggerate your facial expressions and gestures. Does your child check in with you?
5. Practice
At a recent training, we split into pairs and enacted the following:
a) Conversations with too many words
b) Conversation with too many questions
c) Conversations with only instructions
d) Conversations with pauses
e) Conversations based on emotional sharing
Try these with a friend or partner.
The idea is to feel what your child feels.
Take a minute. Let it sink. Imagine what you child feels when you bombard him with questions and instructions.
Which of the above seemed natural?
Move into a natural way of communicating with your child. The use of declarative communication does wonders.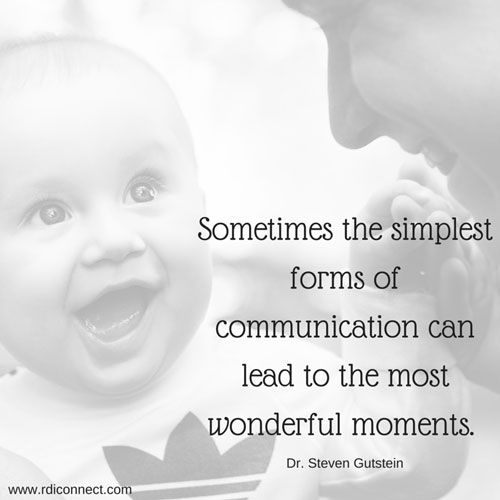 Dr. Renuka and her husband have been using declarative communication with their 22 year old son, Sanjeev for the past two months.  
Here is what she said:
"What a delightful evening this has been! Sanjeev and I went for a walk. The weather was beautiful, and the sky, a chaotic bright orange and golden! Sanjeev and I got talking. Not the usual, repetitive speech, but a real conversation. It started off with me telling him Oct 29th was Deepavali. He started telling me, with accurate memory, how we celebrated the day, last year. He mentioned oil bath, new clothes, the dosas, I made for breakfast. He mentioned the names of one of my nurses, who doesn't work with me anymore, and all names of people who came for the Deepavali party last year! He was genuinely happy to recall the memory, and kept looking at me and smiling. Then we planned about this year's Deepavali. He even told me what I should cook! He mentioned about his brothers, all the while, looking and connecting with me, flashing a dazzling smile. The walk which lasted for 20 minutes, just went by, without we realizing the time. The conversation rejuvenated me more than the walk. What a pleasant way to spend time!"
Your family can achieve this.
You can enjoy these fulfilling, rejuvenating interactions with your child.
Start by filling out this table daily for 21 days. It will help you practice the 5 points mentioned above. When you implement the activity, put a tick mark. [Click here to download the table.]
The emphasis here is not on how many boxes you ticked. It's about how consistent you were with each of the 5 points mentioned every day. If you remain consistent, within one month you will change the way you speak with your child. Your child will also engage in a more meaningful way with you. Trust me.
Dear Friend, change must start with you first.
I know that you have used instructive communication for many years. I did too.
It's never too late to change.
When Priti changed the way she spoke to Tanay. She did not know that it would have a cascading effect in areas of thinking, self development and self confidence too.
This is the power of declarative communication.
Harness this power for your family too.
Use the above 5 points to make the switch from imperative to declarative. Not only will your interaction with your child improve, the emotional bond between you will also improve.
A year down the line, you will not remember how your child 'used to be'.
---
Kamini Lakhani is a, RDI® program consultant and the Director of SAI School (ABA Center) and SAI Connections (RDI Center). She has over 19 years of experience working with individuals with Autism Spectrum Disorders and currently serves as the director of our RDI Professional Training Center in Mumbai. She is the Director of SAI School (ABA Center) and SAI Connections (RDI Center)